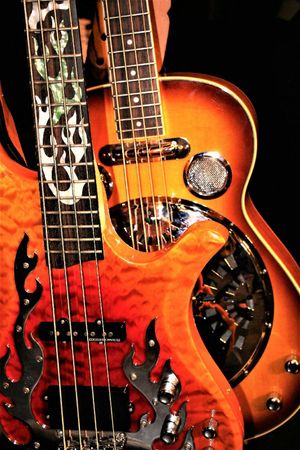 Biography
Winner - Gotham Battle for the Best Band Competition (only country act to ever win this competition!)
Winner  - Good Times Magazine Music Festival Competition (only country act to ever win this competition!)
Winner - Music Excellence Award for Outstanding Americana/ Country Act - Musician Exchange Magazine.
Winner - Best Country Act - The Voice Readers Poll
Winner - Denim and Diamonds Playoff Talent Showcase
Winner – Best Country Act - LI Music AwardS
1ST runner up – All American  Superstar National Competition
NOMINATED- BEST INDEPENDENT SONG OF THE YEAR – JUST PLAIN FOLKS MUSIC ASSOCIATION
NOMINATED- PBS Award for writing and producing WLIW spot
Featured on - ABC's GOOD MORNING AMERICA in a live performancE, ABC  EYEWITNESS NEWS IN NEW YORK & THE NBC morning show of Nashville legend Charlie Chase of Crook and Chase
CMT, MTV, MTV2, VH1, FOX, ABC, USA, Discover, Style, We, TNT, Spike, WB network shows are all featuring QUICKDRAW songs since they signed a deal with Viacom's Extreme Music. 
Great tunes and a sack full of awards aren't all these boys bring to the table.  They are also seasoned professionals being no strangers to big stages, they have toured and shared dates with national recording artists such as:
Charlie Daniels Band
The Marshall Tucker Band
Gretchen Wilson              
Blake Shelton
Kentucky Headhunters
 Delbert McClinton 
Asleep at the Wheel
Steve Wariner
Trace Atkins                    
Chris Cagle
Brian White
 Jeffrey Steele
Jessica Andrews             
Buddy Jewell
Suzy Boggus                  
The Kinleys
Stephanie Bentley       
Victoria Shaw
Andy Griggs                  
Blackhawk
Dierks Bentley             
Kathy Mattea
 As well as performing Songwriter showcases with Beth Neilsen Chapman, Hugh Prestwood, Steve Sesskin and Richard Bach.
 Their music is used in movies, on television and in commercials including:
118 Series    353 Episodes   11 Non-series   364 Total  
(Not All listed here and not including additional International series & non-series)
MTV& MTV2's         
'CRIBS'
'PIMP MY RIDE'
'BUSCH FAMILY BREWED'
 'EXPOSED'
'NEXT'
'ROB AND BIG'
'A SHOT AT LOVE WITH TILA TEQUILA'
'DOUBLE SHOT AT LOVE'
'BIG TIPS TEXAS'
'SEVEN'
'SEVEN WEEKEND EDITION'
'MIS VIDEOS LOCOS'(mtv3)
'MADE'
'TRUE LIFE'
 CMT's            
 'CMT INSIDER'
 'TOP 20 COUNTDOWN'
'CMA NOMINEE REPORT'
'CMA RECAP'
'DALLAS COWBOYS CHEERLEADERS: MAKING THE TEAM'
'MY BIG REDNECK WEDDING'
'MY BIG REDNECK FAMILY'
'CAN YOU DUET'
'THE ULTIMATE COYOTE UGLY SEARCH'
'GATOR 911'
'TEXAS WOMEN'
'DANGER COAST'
'FNA USA'
'GUNTUCKY'
'TRICK MY WHAT'
'CMT MUSIC AND A MOVIE'
'CMT CRIBS'
'SWEET HOME ALABAMA'
'BAYOU BILLIONAIRES'
SOUTHERN NIGHTS'
'CHAINSAW GANG'
'PARTY DOWN SOUTH'
 VH1 & VH2's
 'UNDATEABLE'
'BEST WEEK EVER' 
 'WHAT CHILI WANTS'
'MISS U MUCH'
  ABC's     
'DANCING WITH THE STARS'      
 'MODERN FAMILY'
'GENERAL HOSPITAL'
'ALL MY CHILDREN'
 'ONE LIFE TO LIVE'
'IN THE MIDDLE'
'CAVEMEN'
NBC's
'THE TONIGHT SHOW STARRING JIMMY FALLON'
'WINNER IS"
 CW's             
 'AMERICA'S NEXT TOP MODEL'
 'FARMER WANTS A WIFE'
CW KIDS      
 'TEENAGE MUTANT NINJA TURTLES', 'YU-GI-OH!', 'DINOSAUR KING',      'CHAOTIC', 'VIVA DINATA' Promos
FOX Network's
'AMERICA'S GOT TALENT'
'TAKE ME OUT'
STEVEN SPIELBERG's 'ON THE LOT'
DISH NATION'
'NASHVILLE'
'DR. OZ'
We Network's
'SECRET LIVES OF WOMEN'
DISCOVERY Channel's
 'FACTORY MADE'
'WRECKREATION NATION'
 'DATELINE ON ID'
 'MY BRAND NEW FACE'
'ALL STAR DEALERS'
'AMERICAN TREASURES'
'PUNKIN CHUNKIN'
'TED NUGENT'S GUN COUNTRY'
'MOONSHINERS'
SPIKE Network's
 'GENE SIMMONS' FAMILY JEWELS'
'MANswers'
 'ROCKY MOUNTAIN STATE'
'TATTOO NIGHTMARES'
 E ENTERTAINMENT
'SNOOPS DOGGS FATHER HOOD'
'VERY CAVALLARI'
AMC
'SHOWVILLE'
 A & E NETWORK
'OZZY & JACK's WORLD DETOUR'
STYLE Network's
 'HOT GUYS WHO COOK'
TNT's         
'ALIAS'
USA NETWORK 
'THE PURGE'
'MR. ROBOT'
'REAL COUNTRY '
TV LAND
 'SHE'S GOT THE LOOK'
TLC
 'MY BRAND NEW FACE'
'MISS TURKEY TROT AND MISS DRUMSTICKS PAGEANT'
 ANIMAL PLANET network
'ROCKY MOUNTAIN GATORS'
 'YEAR IN PUP CULTURE'
'MUD LOVIN REDNECKS'
'FLIPPING SHIPS with EDWIN McCAIN'
 TRU TV  
 'LIZARD LICK TOWING'
 'ALL WORKED UP'
 'SPEEDERS'
 LRW 
'MOM'S COOKING'
FOOD NETWORK 
'THE BEST THING I EVER MADE'
 OWN    
'NATE BERKUS SHOW'
 CENT            
'FANTASIA FOR REAL'
 'WHAT CHILI WANTS'
 NATIONAL GEOGRAPHIC CHANNEL              
 'MAD SCIENTISTS'
'BANDIT PATROL'
'DUKES OF CATTLE'
DESTINATION AMERICA
'HILLBILLY THRILL RIDES'
HISTORY CHANNEL 
'CAJUN PAWN STARS'
OXYGEN network     
'TORI AND DEAN: HOME SWEET HOLLYWOOD'      
    'SING OFF'
 BRAVO           
'REAL HOUSEWIVES OF NEW JERSEY'
 'KATHY GRIFFIN SHOW'
PBS KIDS
'​CLIFFORD's ​PUPPY DAYS'
SYFY
'TOWN OF THE LIVING DEAD'
GOLF CHANNEL
'BIG BREAK MYRTLE BEACH'
ESQUIRE
'CAR MATCHMAKER'
'BREW DOGS'
TUBI
'THE COWBOY WAY: ALABAMA'
Movies:    
 'MOVING McALLISTER' starring Mila Kunis, John Heder, Ben Gourney, Rutger Hauer
'THE CLIENT LIST' movie starring Jennifer Love Hewitt, Cybil Shepard
 Commercials Include:
 Prilosec/ NASCAR
USA Network's 'Character's Welcome'
Windex
PBS channel 21
 Shows like THE TONIGHT SHOW STARRING JIMMY FALLON, DANCING WITH THE STARS, Tyra Bank's  'AMERICA'S NEXT TOP MODEL', & 'AMERICA'S GOT TALENT' are using QUICKDRAW songs written by QUICKDRAW's Kevin Hawkins & Steve Ronsen.
 CMT is the biggest user of QUICKDRAW music, using it on over 20 shows to date including CMT INSIDER, TOP 20 COUNTDOWN, their CMA AWARDS coverage shows, also BAYOU BILLIONAIRS, CAN YOU DUET, MY BIG REDNECK WEDDING, DALLAS COWBOY CHEERLEADERS: MAKING THE TEAM, THE ULTIMATE COYOTE UGLY SEARCH, GATOR 911, TEXAS WOMEN, SWEET HOME ALABAMA, SOUTHERN NIGHTS, TRICK MY WHAT,  CMT CRIBS.
After leading a pop/ rock band with Tony Award winning singer/actress IDINA MENZEL (Broadway shows "Wicked" & "Rent" FOX tv show "GLEE"), the boys founded the band QUICKDRAW, released 2 albums "Quickdraw" and "America and Me" and collected numerous awards along the way.
QUICKDRAW's s band members have played as EDDIE MONEY's backing band, playing such hits as "TWO TICKETS TO PARADISE",  "BABY HOLD ON TO ME", "I WANNA GO BACK" .  QD's Steve Ronsen was Eddie Money's Musical Director for Eddie's play "TWO TICKETS TO PARADISE".
The movie "MOVING McALLISTER" starring JON HEDER(Napoleon Dynamite & Blades of Glory) MILA KUNIS(that 70's Show & Family Guy) RUTGER HAUER(Batman Begins & Blade Runner) written by and starring Ben Gourley features QUICKDRAW's writers Ronsen & Hawkins' song "AMERICA & ME".
When asked about influences bassist & songwriter Kevin Hawkins says its "every juke box in every dive bar we ever warmed a barstool in….. the dives always have the best jukeboxes!"
Singer, guitarist, songwriter Steve Ronsen adds "we have heard comparisons vocally to the Eagles & Keith Urban as well as musically to Lynyryd Skynyrd, Zack Brown Band, Montgomery Gentry, Blackberry Smoke, but whatever it may be it touches people and satisfies us and that's what's important."
Based out of Nashville for 2 years, Steve Ronsen and Kevin Hawkins, were touring with some of the top acts in country music while penning all the songs for multi – award winning QUICKDRAW as well as those for a SONY/ USA Networks NASHVILLE STAR finalist with whom they had also been touring.
BAND MUSICIANS:
STEVE RONSEN – LEAD VOCALS, LEAD GUITARS
KEVIN HAWKINS – BASS GUITAR, BACKUP VOCALS
GLENN SHERMAN – LEAD & SLIDE GUITARS
TOM PANTALEO – DRUMS, BACKUP VOCALS
 contact: 516-316-5362  email: designingmusic@icloud.com                  www.quickdrawmusic.com